Geek [Supplies] – American Horror Story: Coven
We cannot stress enough how amazing our audience at Phoenix Comicon's American Horror Story: Coven panel was. Be sure to give the podcast a listen and watch out for the back stabbing bitches of AHS: Coven. We hope that these Geek [Supplies] will prepare you for the journey to discover the new Supreme and to profess your passion for American Horror Story.
A Witches' Bible
What better way to hang on to the rules and keep your guidance safely at hand. Keep a copy of  A Witches' Bible: The Complete Witches' Handbook nearby – may we suggest on your nightstand or in your purse?
Duke Ellington: New Orleans Lowdown
Best play that jazz music on Tuesday night, 'else the Axe Man may pay you a visit. This classic piece by Duke Ellington, New Orleans Low-down, played during The Axeman Cometh, and resonates strong of the NOLA culture.
The Voodoo Doll Spellbook
Marie Laveau showed us that witches do more than poison apples and stab bitches in the back. This book of spells and rituals, The Voodoo Doll Spellbook, seems like a good place for Queenie to begin her studies into her power.
This Is My Next Supreme
Who is the next Supreme? I don't know if I care while this delicious shirt is in the running. Cordelia makes a great Supreme of the Coven, but Pizza Hut makes a great Supreme pizza.
On Wednesdays We Wear Black
Fiona never wore anything but designer, but I feel that she would approve of this beautiful, artistic rendition of the witches in town. Next time you are told to "wear something black" by your Supreme, nail it with this number and a flowing skirt and a black hat.
Dramatic Black Hat
 Oh, you don't have a black hat you say? Look no further than this fabulous, large brimmed hat. All that's missing is your oversized sunglasses.
DG Oversized Sunglasses
You have no excuses. No excuses to look fabulous and witchy at all times.
Stevie Nicks Style Bohemian Shawl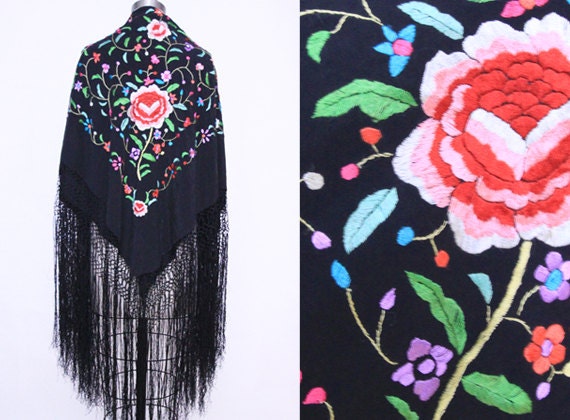 One of our audience members said that every time you "Remember that Misty is still in Hell", you have to drink during the drinking game rules portion of the recording (DRINK!). This beautiful shawl that is reminiscent of the White Witch's gift to Misty will help to soothe your heartache over the loss of our kind witch.
Be sure to join us this Friday for the American Horror Story: Coven Drinking Game Rules – send us your favorites for a chance to be featured in the upcoming E[G]DG post!
---
Educating [Geeks] Podcast for American Horror Story: Coven
E[G] Drinking Game for American Horror Story: Coven
Previous Geek [Supplies]: H. P. Lovecraft
Up Next: Game of Thrones
---